Winter Recital
Sunday, January 31, 2021 by Melanie Burke | Recital
We will meet in our zoom room on Sunday, February 21st at 2pm.










If you are preferring to send a video in lieu of a live performance, I must have them no later than Friday, Feb. 19th.
See you there!


Halloween Music Bingo for Piano Maestro!
Wednesday, September 30, 2020 by Melanie Burke | Holidays
Hello! Wow - is it really almost time for Halloween again? This year may have a little twist, but it doesn't mean we can't still have fun!
I'm super excited for a new game we are all doing together. We are going to play Halloween Bingo in Piano Maestro this month!
---
Here are the rules:
Print out the Halloween Music Bingo card from online resources. I emailed a link, but you can find it in Online Resources>Holiday Goodies
There are 9 songs to learn in the month of October.
As you get 3 stars on each song, mark it off!
Three ways to win! Here are the categories:

3 songs in each row: horizontal, vertical or diagonal.
4 corners
Blackout!

There are Halloween prizes for each category. First person to complete a blackout with 3 stars gets a special Halloween prize!
Film your best song to share with all students!
Ready to get started? Print out your card and let's have some fun!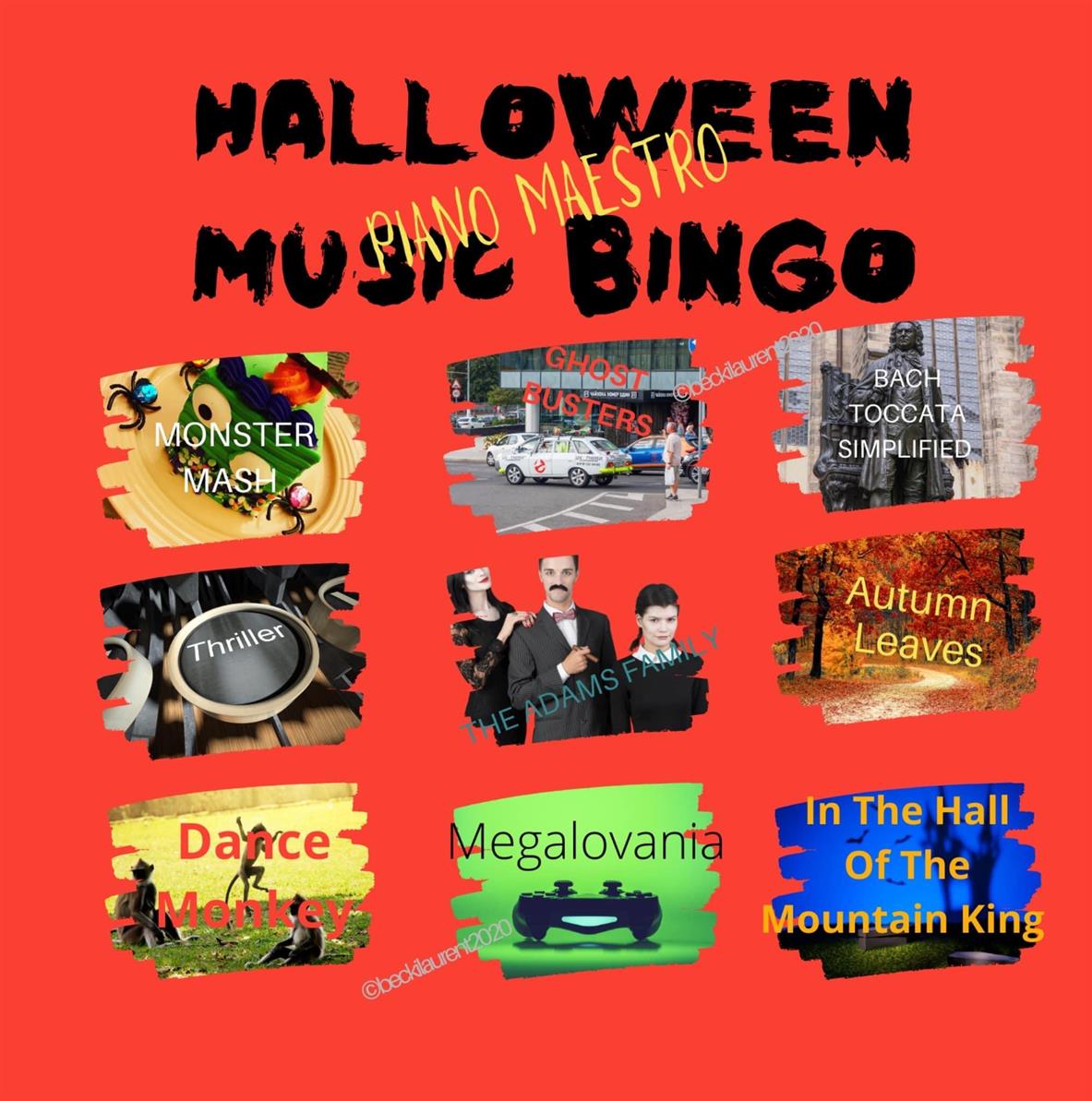 Piano Maestro Summer Camp!
Wednesday, July 8, 2020 by Melanie Burke | Uncategorized
Hello everyone!
Happy summer to you! I hope everyone is having a fun and safe summer.
You've probably seen a new button in Piano Maestro that says "Summer Camp". The song is actually "Sweet Home Alabama" by Lynard Skynard.
Joytunes is giving away a $20 gift card (issued in a drawing) to a lucky student who has mastered this song. All the info is on the flyer below.

In addition to the info below, I am conducting a little contest myself! Demonstrate to me (either in lesson - or by video uploaded to your Google Drive folder) that you have acheived 3 stars on the 2A level version of the song, and I will send you some music stickers for your piano books! :D
Have fun with this - this song is super fun!
See you piano class!
Ms. Mel